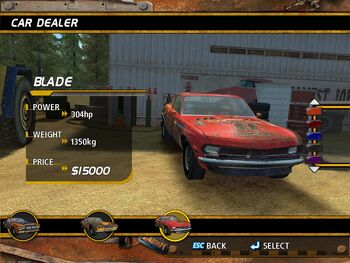 The
Blade
is a
Gold Class
car available in
FlatOut
. With a powerful V8 and a light body, it is an excellent race car capable of great speeds on most tracks.
Performance
Edit
Powered by a 7.2 liter V8 making an excellent 304 horsepower out of the junkyard, the Blade is a formidable race car. It's high power-to-weight ratio and small stature make it an ideal car for those that prefer to dodge their way around a track to win a race. Most importantly, it's short wheelbase and extremely responsive steering make it a great track car. However, if a person is inexperienced and not used to the car's handling, this can often act as a burden, as the steering may be seen as too sharp, throwing people off course. What's more, the vehicle's torque rating is considerably lower than that of other vehicles, so it does not accelerate as quickly out of corners.
In demolition derbies, the Blade is a great choice due to its small size, quick response time and excellent structural integrity. However, the car's light weight is a problem, as it is easily pushed around by larger and heavier cars that are also competing. Even in head-on attacks with other vehicles, the Blade will likely be tossed away with relative ease. It is usually best to drive defensively in derby competitions, only attacking cars that have either stopped temporarily or that have flipped over.
It is one of two cars that cost the most out of the junkyard at $15,000 dollars, with the other being the Thunderbolt.
When fully upgraded, the car makes 460 horsepower, the exact same as the Thunderbolt. However, it weighs slightly more, and is thus slightly slower.
The car's styling is highly reminiscent of a 1970 Ford Mustang fastback.
This vehicle is later revamped and used in FlatOut 2 and FlatOut:UC, known as the Venom and Speedevil.
The engine size is 7.2 liters, which is around 440 cubic inches, a nod to the Chrysler 440 RB engine found in Dodge and Plymouth muscle cars in the late 60's and early 70's. However, 304 horsepower is lower than the actual engine's horsepower ratings.