Bullet is a Race Class car in FlatOut 2 and FlatOut: Ultimate Carnage.
Bullet is pretty fast and has decent handling. It's averagely heavy and strong.
It's driven by Jason Walker.
In Ultimate Carnage, its appearance has been changed drastically. It's mask and headlights are very different, and it also has got new wheels and rims.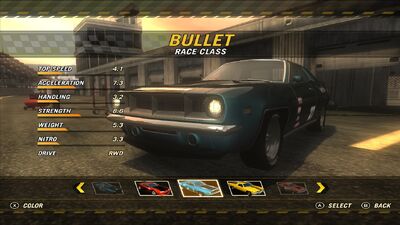 The car name was kept after FlatOut's Bronze Class last vehicle.
Could be based on Plymouth Hemi Cuda '70
Redline of the car: 5.500 rpm (Flatout 2)
Obviously, the car is a carburated V8 machine.
Ad blocker interference detected!
Wikia is a free-to-use site that makes money from advertising. We have a modified experience for viewers using ad blockers

Wikia is not accessible if you've made further modifications. Remove the custom ad blocker rule(s) and the page will load as expected.