The City Central 2 is one part of the big
Location
:
City Central
in
FlatOut 2
and
FlatOut: Ultmate Carnage
. This track in the
City
.
Description
Edit
Race takes place amongst construction sites, truck terminals and highway built amid the city.
FlatOut 2 era
Edit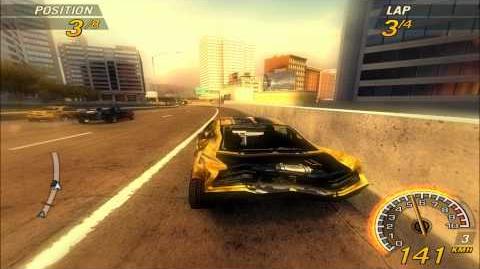 In
FlatOut 2
this track is really good to have fun. Speedful highway, narrow corners, big construction site and other cool things. So much destruction and speed!
FlatOut: Ultimate Carnage era
Edit
In
FlatOut: Ultimate Carnage
the track has been changed. Not very much changes, but they are making this track better. So much more objects and other, BUT in one place Bugbear removed the lamp poles. They were across the track and that was awesome.
Now, you can race by day and sunset. This means that you can change the time of day and play with different map's lights.
The track still good, but sometimes the FlatOut 2 era is better.
Ad blocker interference detected!
Wikia is a free-to-use site that makes money from advertising. We have a modified experience for viewers using ad blockers

Wikia is not accessible if you've made further modifications. Remove the custom ad blocker rule(s) and the page will load as expected.