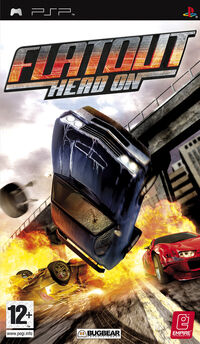 FlatOut: Head On
is a handheld remake of the 2006 title,
FlatOut 2
. It was released in Australia on March 12, 2008, in Europe two days later, and in North America on April 4, 2008. The gameplay is very similar to FlatOut 2, but the soundtrack is from
FlatOut: Ultimate Carnage
.
Ad blocker interference detected!
Wikia is a free-to-use site that makes money from advertising. We have a modified experience for viewers using ad blockers

Wikia is not accessible if you've made further modifications. Remove the custom ad blocker rule(s) and the page will load as expected.