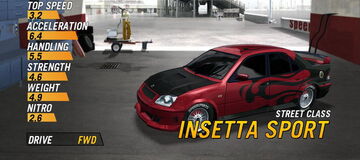 Insetta Sport is a Street Class car in FlatOut 2 and FlatOut: Ultimate Carnage.
It is based on the Race Class car, Insetta. In FlatOut 2 it resembles a Peugeot 405 Mi16 with heavily tuned front. The Insetta Sport has undergone some design changes in Ultimate Carnage, and instead resembles a 2005 Subaru impreza WRX STI.
This vehicle is a great handler, but suffers from a low top speed and acceleration. The Insetta Sport requires a skilled driver to keep it fast and near the apex, without going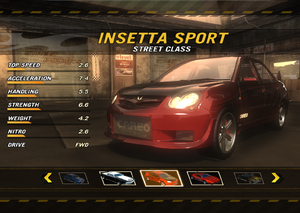 wide and understeering. Drivers should be prepared to leave corners quickly to get the advantage on faster opponents.
As with many of the other FWD cars in the series, this vehicle understeers easily.
Although average in weight, it has poor strength. Its good weight distribution allows it to land jumps fairly well. A mediocre performer in derbies, the Insetta Sport is weak and its front-wheel drive is unsuitable to derbies. However it has good low-speed acceleration and has responsive steering.
In Flatout: Ultimate Carnage, the Insetta Sport has only changed cosmetically.
In Flatout 2, the car has a very high redline, at around 7.500 rpm.
SPEED: 2.6
ACCELERATION: 7.3
HANDLING: 5.5
STRENGTH: 6.5
WEIGHT: 4.1
NITRO: 2.6
DRIVE: FWD​
No AI driver drives the Insetta Sport in FlatOut 2, but is driven by Lei Bing in Ultimate Carnage.
The Sport isn't actually called the Insetta Sport, but rather the Insetta Enegra, as seen with the badge on the boot.
Its number plate is 2F45T-4U (Too fast for you).
Likely the Insetta Sport is the downgraded version of the Race Class Insetta, despite the Insetta Sport being into the Street Class, which is a class for higher end cars.
The engine is a V6.