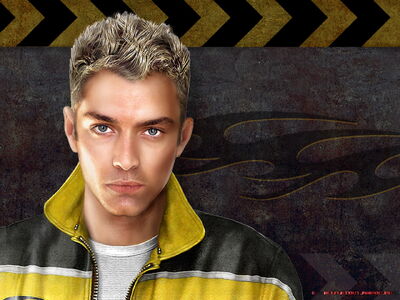 Jack Benton is one of 11 drivers in FlatOut 2 and FlatOut: Ultimate Carnage.
Current top driver with the skills to prove it, Jack is hot tempered and willing to take risks. Rarely aggressive, though sometimes inclined to crash on you and other racers, but if you leave him alone, he'll leave you alone.
In-game Description
Edit
Fast, aggressive and skilled, these are the words you hear often when there's talk about Jack Benton. Few can match the speed of this 28-year old driver, and even fewer will survive the crashes with him. Racing has been Jack's whole life since he was ten, it's his second nature. He spends lots of his free time practicing and aims for perfection. Jack will do whatever it takes to win. Jack is determined, experienced and cool, though he does display his sharp wit and humor occasionally, especially in company of ladies. This could be a reason why Jack came to blows with Jason Walker on a night out in bar, which ended up with Jason short of a few teeth and a girlfriend. During races, Jack keeps his cool and doesn't tangle up in unnecessary crashing for the sake of it. Instead, he bides his time and utilizes all the possible aspects in the race to his advantage. He is quick to react and before you know it, you'll be left behind his exhaust fumes. Jack is a restless soul, doing odd jobs around the globe, trying out some dangerous hobbies and living a carefree lifestyle. Jack has gotten quite good at ring of fire events where he flings his body superbly through the flaming hoops. Still, the most relaxing place for Jack is behind a steering wheel, going flatout.
Driving Style
Edit
Benton is a top-tier driver, and the overall best driver in FlatOut 2 and FlatOut: Ultimate Carnage, nearly always placing in the top three - rivaled only by Sofia Martinez.
A mid-tier driver in Derby class, although an efficient driver, Jack struggles to keep up with the competition in his slow Banger and he often spins out. He is a mid-tier derby driver, being able to outsmart most drivers, but let down by the low weight of the Banger.
A very good driver in Race class, as long as he is not harassed, he tends to take podium position. He is quite efficient and the Fortune ensures mistakes are kept to a minimum. He gets Wrecked quite often due to the Fortune's very low strength. This also means he is a weak driver in derbies.
Jack often places in the podium in Street class due to his efficient driving style and agile Sunray. He is also quite good in derbies again due to his decent driving skills.
Benton's identifying color is yellow - his cars bear a bright yellow paint job and black tribals. He performs best in races, but his cars can be wrecked easily if hit too often.
Ad blocker interference detected!
Wikia is a free-to-use site that makes money from advertising. We have a modified experience for viewers using ad blockers

Wikia is not accessible if you've made further modifications. Remove the custom ad blocker rule(s) and the page will load as expected.