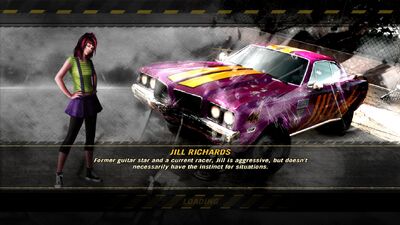 Jill Richards is one of 11 drivers in FlatOut: Ultimate Carnage.
Former guitar star and a current racer, Jill is agressive, but doesn't necessarily have the instinct for situations.
Jill is a very varied driver. She is often found in the top 3, but also sometimes found crossing the line last. Her strong point is street racing, as her Terrator is a fast, well balanced car.
She is identified by her purple color and her cars have 'JILL' written on the side in bright yellow paint.
Often places in podium in Derby-class, Jill drives a very good Splitter well. She can be aggressive and rarely makes mistakes. Also a good derby driver, she is agile and fast.
A poor driver in Race class, Jill drives a slow Mad Rash. Nonetheless she is efficient, aggressive and rarely gets Wrecked. A big threat in derbies, her Mad Rash is surprisingly agile and strong.
A good driver in Street class, Jill is an efficient and clean driver of the fast and agile Terrator. She rarely makes mistakes, but often gets Wrecked due to the Terrator's very low strength. A mid-tier derby driver, she is agile and often outsmarts her opponents, but her Terrator lets her down.