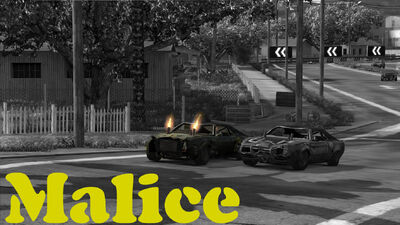 Malice
is the second car in the
Derby Class
in
FlatOut 2
and
FlatOut: Ultimate Carnage
.
The Malice is the fastest of the 3 starter-cars, with avarage durability, but the worst acceleration of all available cars. Due to its low weight it doesnt deal well with crashes or derbies.
It's driven by Ray Carter.
The Malice highly resembles a 1971 Chrysler Valiant Charger.
In the earlier stages of Fo2, Malice had red worn-off stripes going over the sides, bonnet and hood. These are absent in the retail game.
FlatOut 2 era
Edit
Class:Derby Class
Redline: 6.000 rpm
Type: Muscle Car
Capacity: 2 Door
Cost: 4000CR
Drive: RWD
0-100 km/h............ 6,934 s
0-160 km/h............ 14,167 s

Note: All measurements have been made on the Test Track, using automatic shifting,100% upgrades, full throttle as soon as the "Go" appears and no nitro. These values can vary on different surfaces, with manual shifting and different driving styles, as well as other upgrade settings.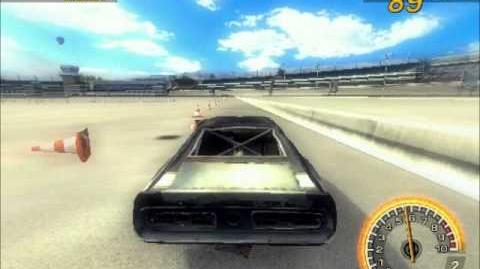 Stock Performance
Edit
Top Speed: 1.6 (171 km/h)
Acceleration: 2.6 (4 Gears)
Handling: 7.8
Strength: 7.8
Weight: 2.2
Nitro: 1.6
Fully Performance
Edit
Top Speed: 4.5 (220 km/h)
Acceleration: 3.9 (4 Gears)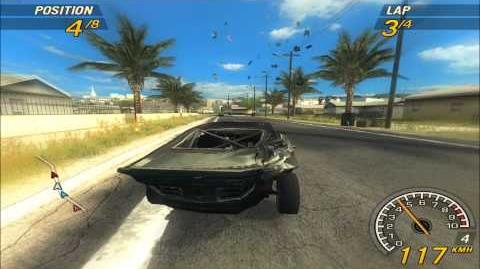 Handling: 8.8
Strength: 7.8
Weight: 2.6
Nitro: 2.7
FlatOut Ultimate Carnage era
Edit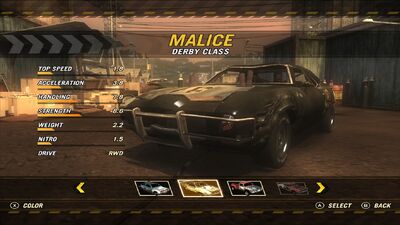 In FOUC Malice has been changed.
Top speed 4.6.
Acceleration 3.8.
Handling 7.8
Strength 8.6.
Weight 2.2
Nitro 2.6
Drive RWD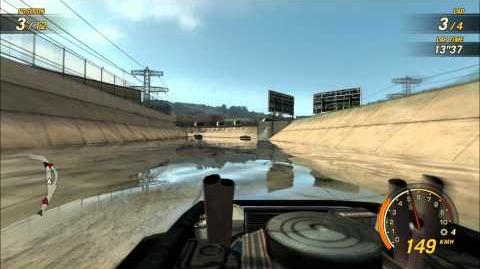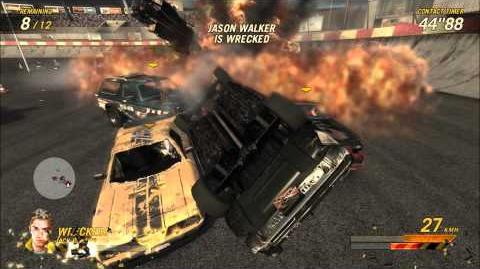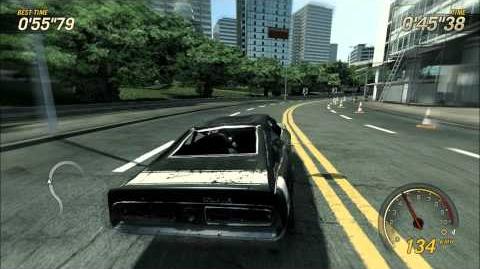 The engine resembles a small block V8, longitudinally mounted. Also has a carburator.
Ad blocker interference detected!
Wikia is a free-to-use site that makes money from advertising. We have a modified experience for viewers using ad blockers

Wikia is not accessible if you've made further modifications. Remove the custom ad blocker rule(s) and the page will load as expected.