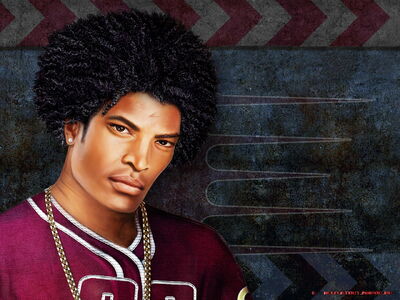 Ray Carter is one of 11 drivers in FlatOut 2 and FlatOut: Ultimate Carnage
Laid back driver with genuine racing talent, but sometimes seems indifferent about winning or losing. Skillful enough to win .. if he feels like it.
In-game Description
Edit
Ray is 27 and has collected a fine line of old motorbikes and old American cars. He got his first motorbike in the age of fourteen while living in Jamaica with his traveling family and has been racing ever since. His motto "Live and let drive" sums up his driving style perfectly. While he enjoys taking risks, he always tries to ensure that his driving doesn't endanger the other competitors. Ray is calm and laid-back, almost casual in his driving style. He isn't in the race for the competition, but just for enjoying himself and can easily leave the race track for the other, more competing racers. Ray is also a natural in the bowling arena and rules over the basketball court. Still, after the dust has cleared, Ray can often be seen in the top three. On his spare time he likes to spend time with his friends, collect and repair motor vehicles and listen to his extensive collection of reggae.
Driving Style
Edit
Carter ranks in the lower-tier of drivers, usually finishing last or in the bottom 3 - but occasionally will be out in front of the pack. He tends to perform much better in the Street Class than in Race or Derby Class.
A very poor driver in Derby class, Ray pretty much combines all the bad qualities of a driver. He is slow in the Malice, erratic, too aggressive for his own good and wrecks often. A very poor derby contender, Ray's Malice is weak and he often gets stuck. That said he is fairly agile in a lightweight car.
A mid-tier driver in Race class, Ray is incredibly fast in the Ventura but is very careless. He clearly has trouble controlling his car and wrecks quite often. A very poor derby contender, Ray often spins in circles.
A mid-tier driver in Street class, Ray is slow of the line and in corners but is fast and efficient. He can be aggressive and erratic. Be careful around him as his Scorpion is no slouch in a battle. A real threat in derbies, Ray often lurks in the sidelines and can be difficult to hit at this point. At an unexpected time, he will blaze into the competition at an incredible speed and cause grievous damage. Try to hit his Scorpion after the crash. He can last a long time with his tactic due to the Scorpion's very high strength. Keep a close eye on his arrow so that you can get out of the way in time when he strikes; it is best to destroy him early on.
Carter's identifying color is light blue. His cars bear a solid light blue paint job with purple pinstripes.
His motto "Live and let drive" could be a reference to the 1973 James Bond film "Let and Let Die".
Ad blocker interference detected!
Wikia is a free-to-use site that makes money from advertising. We have a modified experience for viewers using ad blockers

Wikia is not accessible if you've made further modifications. Remove the custom ad blocker rule(s) and the page will load as expected.