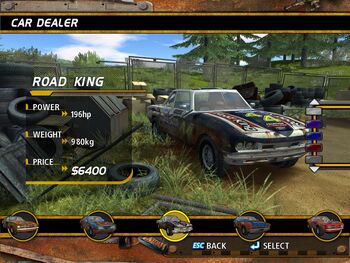 The Road King is a Silver Class car in FlatOut. While only a modest performer out of the junkyard, the car is a very well-balanced platform, capable of excellent handling and speeds. The car's later renditions are iconic to the FlatOut series, having appeared on the cover of the first game's sequel.
Performance
Edit
The Road King is powered by a 3.0 liter V6 engine producing 196 horsepower in stock form. While not the most powerful car, the Road King is arguably one of the most balanced Silver Class vehicles available. It's handling is nimble, precise and forgiving, while its acceleration and top speed are also excellent. The car's only real weakness happens to be its suspension, which is excessively low to the ground, with the wheels tucked into the car's bodywork. The car is often damaged by even the most modest of jumps, and struggles to drive over simple wreckage found in the road, making its usefulness questionable (especially in the carnage-loving world of FlatOut). Drivers will find that the car's performance is best when the vehicle is kept in good shape, so using it for aggressive driving is a poor decision.
In demolition derbies, the Road King's performance is poor to mediocre, given the circumstance. It's sharp turning and excellent structural integrity make it appear to be a good choice for vehicle-to-vehicle fighting, but its low ground clearance and tendency to flip under heavy impacts make it a problematic car to win with. Defensive driving tactics are highly recommended, especially in the Silver Class' mud bowl.
The car makes 277 horsepower when fully upgraded, making it an exceptional performance car.
The vehicle's bodywork appears to be reminiscent of the first generation Nissan Skyline, GT-R, with some styling cues of other manufacturers. the short roofline may also have been inspired by the Lancia Fulvia.
During hard impacts, the car's body tends to dig into the ground, possibly causing the car to roll if the impact is severe enough.
Ad blocker interference detected!
Wikia is a free-to-use site that makes money from advertising. We have a modified experience for viewers using ad blockers

Wikia is not accessible if you've made further modifications. Remove the custom ad blocker rule(s) and the page will load as expected.