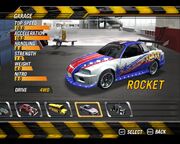 Rocket is a Stunt- and a Bonus Class in FlatOut 2 and FlatOut: Ultimate Carnage. It is based on the Sunray from the Street Class. It is one of the fastest cars in the game, and can be obtained for single-player use with a cheat code.
The Rocket is the second fastest car in the game, right behind the Flatmobile.
The cheat cote that unlocks the Rocket is "KALJAKOPPA", which from Finnish, It translated into "beer basket".
The Rocket's color can be changed in single player races, but the actual Stunts variant cannot be changed.

Ad blocker interference detected!
Wikia is a free-to-use site that makes money from advertising. We have a modified experience for viewers using ad blockers

Wikia is not accessible if you've made further modifications. Remove the custom ad blocker rule(s) and the page will load as expected.