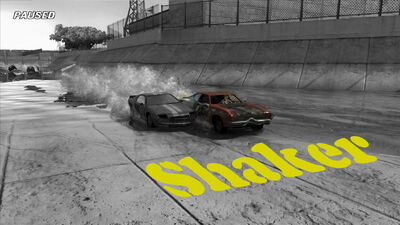 Shaker is a Derby Class car in FlatOut 2 and FlatOut: Ultimate Carnage.
The Shaker is the fourth vehicle to be unlocked in FlatOut 2 and Ultimate Carnage. It is reasonably fast and is arguably the best-handling muscle car.
It's driven by Jason Walker in Derby events.
A restored and upgraded version of this car appears in the Street Class as the Scorpion and is driven by Ray Carter.
FlatOut 2 Era
Edit
Redline: 6.500 rpm
Price: 5500 CR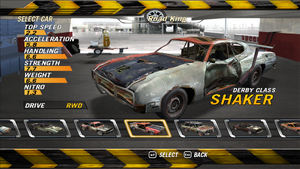 Drive RWD
Stock Performance
Edit
Top speed 3,5 (211 km/h)
Acceleration 5.8 (4 Gears)
Handling 6.6
Strength 7.7
Weight 6.6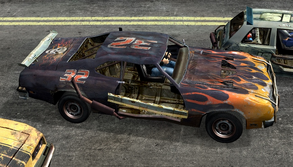 Nitro 1.6
Fully Upgraded
Edit
Top Speed 5.2 (245 km/h)
Acceleration 6.4 (4 Gears)
Handling 7.8
Strength 8.1
Weight 7.3
Nitro 2.6
FlatOut: Ultimate Carnage era
Edit
In
Ultimate Carnage,
the Shaker has undergone significant changes, with new statistics and a style.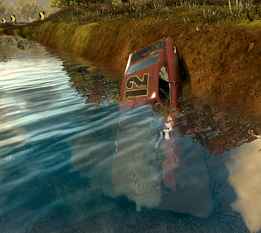 Top speed 4.9
Acceleration 6.1
Handling 6.6
Strenght 8.5
Weight 3.0
Nitro 2.6
Drive RWD
The engine is a big block carburated V8.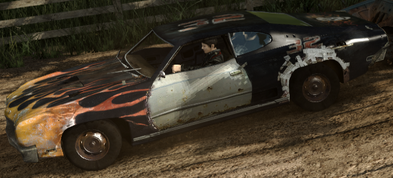 Ad blocker interference detected!
Wikia is a free-to-use site that makes money from advertising. We have a modified experience for viewers using ad blockers

Wikia is not accessible if you've made further modifications. Remove the custom ad blocker rule(s) and the page will load as expected.