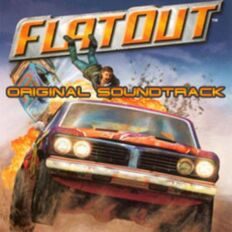 Every FlatOut game so far has a number of songs playing in the game. These are called soundtracks. The music in the game gives off a realistic vibe to the game as you wouldn't expect to listen to slow-tempo music in a situation like this; It fits its codes and conventions rather well.
Adrenaline — «Adrenaline»
Adrenaline — «Dead Inside»
Agent Blue — «Something Else»
Amplifire — «Drown Together»
Amplifire — «Heartless»
Amplifire — «Perfect Goodbyes»
Central Supply Chain — «Flat Out»
Central Supply Chain — «Are You Ready»
Central Supply Chain — «The Ever Lasting»
Circa — «Alive!»
Deponeye — «Anger Management 101»
Deponeye — «Tick Tock»
Full Diesel — «King of Defeat»
Full Diesel — «No Man's Land»
Kid Symphony — «Hands on the Money»
The Killer Barbies — «Barby With Two Heads»
The Killer Barbies — «Down the Street»
LAB — «Beat the Boys»
No Connection — «Burnin'»
No Connection — «Living American»
No Connection — «Love to Hate to Love»
Sixer — «The Race»
Splatterheads — «Fish Biscuit»
Subroc — «Close the Windows»
The April Tears — «Little Baby is Coming»
The Hiss — «Back on the Radio»
Tokyo Dragons — «Teenage Screamers»
Whitmore — «Nine Bar Blues»
No.
Artist
Song
Plays
01.
The Chelsea Smiles
Nowhere Ride
ingame
02.
Alkaline Trio
Fall Victim
ingame, stunt
03.
Papa Roach
Blood Brothers
stunt
04.
Supergrass
Road To Rouen
title
05.
Alkaline Trio
Mercy Me
title, stunt
06.
Nickelback
Believe It or Not
title
07.
Megadeth
Symphony of Destruction
title
08.
Yellowcard
Rough Landing Holly
ingame
09.
Yellowcard
Breathing
title, ingame
10.
Zebrahead
Lobotomy for Dummies
ingame, stunt
11.
Rise Against
Give It All
ingame
12.
Papa Roach
Not Listening
ingame, stunt
13.
Underoath
Reinventing Your Exit
title, ingame, stunt
14.
Fall Out Boy
7 Minutes In Heaven
ingame, stunt
15.
Supergrass
Richard III
ingame
16.
Nickelback
Flat On the Floor
ingame
17.
Rob Zombie
Feel So Numb
ingame
18.
Rob Zombie
Demon Speeding
ingame
19.
Wolfmother
Pyramid
ingame
20.
Wolfmother
Dimension
ingame
21.
Fall Out Boy
Snitches, and Talkers Get
Stitches and Walkers
ingame
22.
Mötley Crüe
Dr. Feelgood
stunt
23.
The Vines
Don't Listen To The Radio
title, stunt
24.
Audioslave
Man Or Animal
ingame
25.
Audioslave
Your Time Has Come
title, ingame
The soundtrack in FOUCEdit
32 Leaves — Waiting
Art Of Dying — You Don't Know Me
A Static Lullaby — Hang Em High
The Classic Crime — Blisters & Coffee
Dead Poetic — Narcotic
Everything At Once — Boys On The Hill
No Connection — Feed The Machine
Hypnogaja — They Don't Care
Kazzer — Fueled By Adrenaline
No Connection — The Last Revolution
Luna Halo — I'm Alright
Manafest — Wanna Know You
This Is Menace — Cover Girl Monument
Opshop — Nothing Can Wait
Point Defiance — Union Of Nothing
Riverboat Gamblers — True Crime
Sasquatch — Believe It
Supermercado — Ditch Kitty
The White Heat — This Is My Life
The Sleeping — Listen Close
Ad blocker interference detected!
Wikia is a free-to-use site that makes money from advertising. We have a modified experience for viewers using ad blockers

Wikia is not accessible if you've made further modifications. Remove the custom ad blocker rule(s) and the page will load as expected.