I've put a lot of hours into this game, and I got bored and decided to make a tier list.
No special vehicles on this list because I honestly have no clue where to rank those.
Also, just let me preface this that every car in this game is viable and you can win with any car provided you're skilled enough. This is just my opinions on which cars are better than others with explanations for each. I also separated the cars into each class for convenience.
Some of these are obvious, some are not.
Front Wheel Drive Behavior
Edit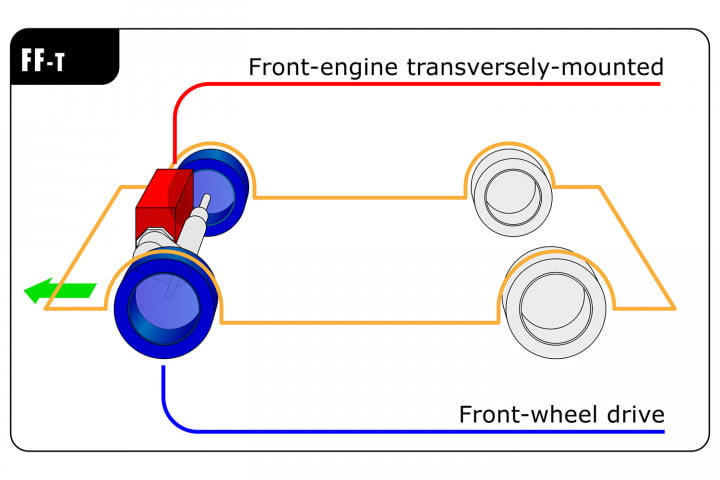 First, I feel it is my duty to defend the lot of front-wheel drive performance cars. Unjustly these vehicles have earned a bad reputation in the enthusiast community. The complaints are pretty simple: since the front axle on a FWD car is in charge of steering and managing all the engine's power (as opposed to just steering or only managing a portion of the power like other setups), two things can happen. The first is called "torque-steer," a phenomenon where the torque delivery overwhelms the front tires and "steers" them somewhat wildly, forcing the driver to cut down acceleration or fight the steering wheel. The second issue is called "understeer," where maximum steering input paired with throttle pushes the vehicle to the outside of a corner.
I won't attempt to deny that each of these issues is inherent to FWD configurations, but I will place some responsibility and blame on the driver in these circumstances.
As FWD performance models – like the Volkswagen GTI and Ford Fiesta ST – become more powerful, torque steer can be more of an issue, but automakers have made incredible progress lately to nullify the condition. By using intermediate shafts to reduce the flex of a longer v. shorter driveshaft, most modern vehicles only experience a "pull" on the steering wheel under full, from-a-stop, acceleration. Other techniques include electronic differentials and power damping controls. To avoid going too far down the rabbit hole, I'll simply say that contemporary vehicles come equipped from the factory to manage the maleficent torque-steer problem, so complaints about that issue carry far less virtue than they once did.
As for understeer, that's completely under the driver's control. I, too, once wrote-off FWD vehicles as understeering contraptions, but after years of track driving and training from racing pros, I have a new appreciation for how much manipulation a driver can apply to a FWD car. As your skill increases, you can rotate a vehicle and never have to take your foot off the throttle when cornering. Carry too much speed into a corner or just rely on more steering angle to solve your problems and you'll end up in the barrier, but that's true of any drivetrain setup. Proper braking, turn in, steering input, and throttle modulation can turn any FWD vehicle into just as potent of a track weapon as a RWD or AWD vehicle.
FRONT-WHEEL DRIVE (FWD)
This is the most common layout you can find today. The engine/gearbox combo is located at the front, usually transversally to the car, and all the power is sent to the front wheels, as the name suggests.
Why it's good
First of all, it is an economic solution, reason why econoboxes are called that way. There is no need to send the power to the rear axle so you don't get the extra driveshaft running along the center of the car. Reason why you also don't get the big transmission tunnel and a rear differential which usually eats up passenger and baggage space.
This combo is also good during winter, because all the weight of the engine pushes right down on the power wheels, which get more grip on snowy roads this way.
Ultimately, since the drivetrain is short, power loss is smaller and you get better efficiency, which translates into a smaller fuel consumption. Maintenance is somewhat cheaper too.
Why it's bad
Well, first of all, those front wheels are put through a lot of stress as they need to put the power down, steer the car and dampen the road irregularities. Combine this with the unbalanced weight of the car and you end up with poor maneuverability.
Turning radius tends to get bigger because the wheels' steering angle is smaller "thanks" to all the mechanical parts crowded in one place. And acceleration will be poorer too because the car's center of mass will move towards the rear where no power is transmitted, thus the front wheels will lose grip.
Along with poor acceleration comes torque steering, which is the car's tendency to pull left or right when accelerating hard because FWD cars with transversally mounted engines have different sized prop-shafts to turn each wheel.
The last nail in the coffin comes from the understeering characteristic of this type of cars. Understeering is a car's tendency not to go right or left properly when you turn the wheel. This happens because at high speed, all that concentrated mass' inertia at the front is too big to be handled by the front wheels. They can't simply "grab" the weight and point it towards the desired direction of travel, lose grip and take the corner very wide.
NOTE: Disregard "fuel consumption" or "ownership costs" since this does not apply to Flatout.
NOTE 2: Unexplainably in Flatout you'll get vehicles such as Fortune and in some cases the Chili (in FO2), with rear engines and FWD. The mystery remains as how this abnormality would work in the real world.
Rear Wheel Drive Behavior
Edit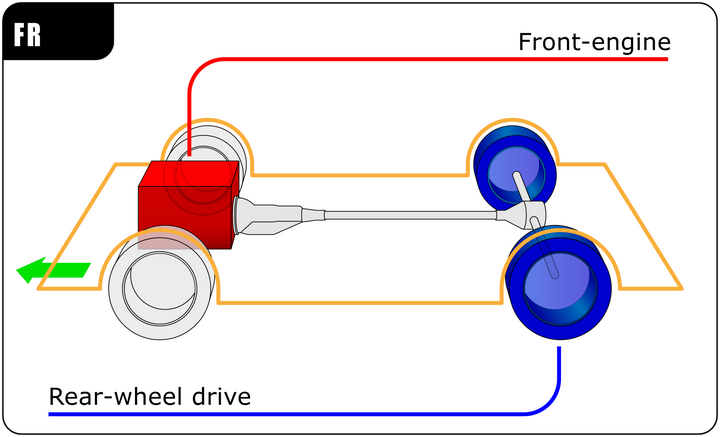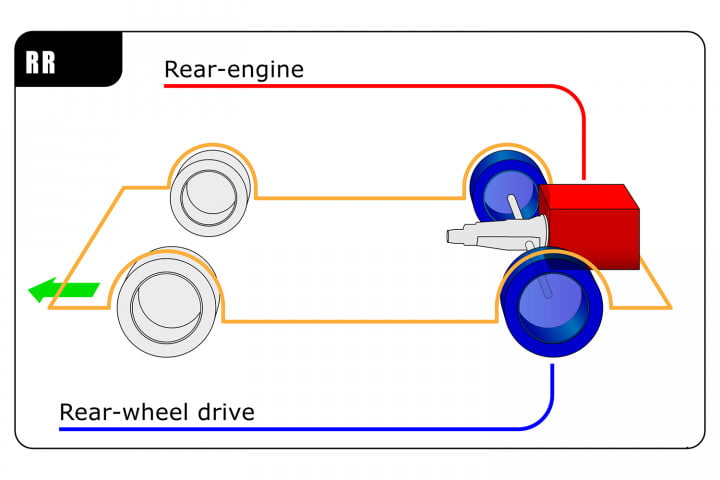 Speaking of, why do purists swear by RWD designs? For several reasons, a rear-wheel drive system can afford an extra degree of control to a skilled driver, but it is also a more difficult drivetrain to master. In terms of acceleration, a RWD system will also be quicker than a FWD setup because as weight transfers to the rear off-the-line, the front wheels lose grip and the rear wheels gain more.
On a track, rear-wheel drive vehicles can be manipulated to slide or pivot that much easier than a FWD or AWD model around a corner. This is because power can be used to break traction on the rear wheels, while FWD or AWD models must rely on momentum to rotate. Finally, RWD configurations are usually designed with near-perfect weight distribution (50:50) thanks to a front-mounted engine and rear-mounted transmission and differential. In performance driving conditions, that balance translates to neutral handling, where subtle inputs to throttle, steering, or braking have greater impact.
REAR-WHEEL DRIVE (RWD)
As the name implies, the engine sits at the front (or the rear, as is the case of some Flatout vehicles such as the Banger) and the power is sent to the rear wheels via a driveshaft and a differential right in the middle of the axle (at least in vehicles with engine in the front, since Rear Wheel drive and rear engine located vehicles work slightly differently, such is the case of Porsche for instance). It is the classic layout and is usually used on sportscars as well as luxury ones.
Why it's good
First of all, it does let engineers play with the weight distribution, since some cars also have the transmission/differential combo placed at the back, a combination known as a "transaxle".
Since the wheels at the front have less weight to deal with and the engine bay isn't that cluttered, they can turn more and can put the car on the desired line faster.
It basically outcomes the FWD's problems: smaller turning radius, better cornering, acceleration and no torque steering since the differential is right in the middle of the two wheels and both drive shafts are the same.
Why it's bad
More weight is added, since you get a driveshaft and the transmission tunnel along the car's length. More weight and more linkages means power loss, lower efficiency and higher fuel consumption. If that's not enough, the extra stuff adds more to the final cost of the car.
Then you get less passenger and luggage space due to the aforementioned tunnel and the differential at the back on which the trunk is located.
Also, since there's less weight pushing on the driving wheels, they tend to lose grip faster on snowy roads, thus making it harder to accelerate. Finally, the same weight imbalance will make the rear end stick out and make the car oversteer.
While oversteering could be dangerous, with the car tending to spin out of control and crash, it could also be fun, since applying the right amount of countersteer and acceleration turns your slide into a controllable drift.
NOTE: Disregard "fuel consumption" or "ownership costs" since this does not apply to Flatout.
All Wheel Drive/4WD Behavior
Edit
So, you might imagine, all-wheel drive must be the best of both worlds. Well, yes and no. In terms of acceleration, it's true: all-wheel drive usually is the quickest off the line with little to no slip under full power. On the track, AWD systems enable incredible levels of grip during cornering, but all that grip can sometimes get in the way of driver-controlled maneuvers.
If a new driver picked one setup to compete with seasoned pros, all-wheel drive would be the best choice. Advancing to fast lap times on an AWD vehicle is more manageable than the same feat in both FWD and RWD configurations because it's easier to recover from mistakes and easier to push a vehicle in each corner without dire results. However, when it comes to next-level driver mechanics, AWD vehicles are actually more difficult to manipulate than their FWD and RWD counterparts. An unbiased (front or rear) all-wheel drive system strongly resists artificial movements like rotation from trail braking and oversteer. Grip is great, but experienced drivers can get more out of a vehicle that let's them "force" their will in certain conditions.
FOUR-WHEEL DRIVE (4WD or 4x4)
This system is usually used by hardcore off-roading machines needing maximum traction all the time. Most of them will work as RWDs and thanks to a transfer case power is then split to the front wheels as well.
Some vehicles can be all-time 4x4s meaning all wheels are being powered at all times with the same amount of power being sent to each axle.
Why it's good
To put it straight, with 4x4 cars, slippery roads and off-roading won't be a problem anymore as you get to use all the available power without the wheels getting overwhelmed by it and slip.
Acceleration also gets a big plus for the same reason.
Why it's bad
Weight plays a big role here since you need two sets of axles with two differentials and the extra transfer case. The system's complexity also results in power losses, decreased efficiency and increased fuel consumption.
It may be able to snap your neck during acceleration, but it won't go too high with the numbers on the speedometer. These things usually make the most out of torque, not horsepower, so top speed isn't that great and taking them out of the "comfort zone" will rocket the fuel consumption sky high.
ALL-WHEEL DRIVE (AWD)
Generally, the AWD system powers all the wheels, but NOT always. All four wheels get to be powered at the same time only when certain situations require that; like a slippery road or rough terrain. It's found both on off-roaders and certain performance-oriented machines.
Why it's good and bad
The AWD is trying to be the best out of the two worlds. When cruising or going at low speeds, the power ill take the shortest route from the engine to the wheels to minimize losses and increase efficiency.
When you suddenly need power, in situations like hard acceleration or having to go up a steep climb, the system automatically switches the distribution up to 50-50 on the two axles, turning your FWD or RWD into a 4WD for a short period of time.
Of course, trying to be best of two word means you have to make compromises. Although not needed all the time, your car gets to carry the extra weight all the time. The AWD system is also more complex which in result turns it more expensive to own and repair.
NOTE: Disregard "fuel consumption" or "ownership costs" since this does not apply to Flatout.
Engine types used in Flatout 2 and UC
Edit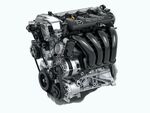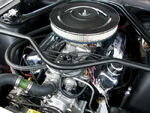 Based on the 3d models used in Flatout 2 and UC, for simplicity's sake we'll use I4, V6 or V8 to determine which engine type each car has in Flatout, merely for a cosmetic standpoint since it serves absolutely nothing in regards to how the car will perform in-game, a well tunned I4 could just aswell beat a stock V8 and vice-versa in Flatout, but since the models used by the developers highly resemble one of these three types of engines, I'll use them to describe each vehicle accordingly with them.
Types of engines
Edit
Flatout includes many different vehicles resembling real life models from different eras, and their engines are modeled based on such as the ones cited below (please note that these are speculative values and engine types regarded here are based on what cars the in-game model uses, independently of what users have identified to resemble Flatout vehicles in the real world, so this is about as much of a guess from you or me):
I4: Inline 4 cylinder engine; Most common engine used in vehicles nowadays, the I4 offers a good compromise of power to weight ratio, altough it leaves a lot to desire in straight line acceleration and torque. Overall it's a decent engine for narrow circuits, dirt tracks or city courses due to it's small size and inevitably an ok handling, even if mostly FWD. In Flatout 2 and UC, this kind of engine is generally encountered in lower end street cars and a couple of other ones, in derby or race class. The model for this engine is easily seen in the back of the Chili (all rusted up) or the Chili Pepper (a newer and better maintained one).
Flat engine: Also called flat or boxer engine, this engine type has a lower centre of gravity and therefore has a decent acceleration compared to other engine types. Historically used by Subaru and Porsche, in Flatout this could be said to be encoutnered in the Insetta vehicle line, if they resembled Subarus WRXs. NOTE: This engine type is kept mostly for curiosity's sake, since not a single vehicle is officially depicted having this engine type.
I6: Inline 6 cylinder engine; A balanced engine historically used in race cars. NOTE: This engine type is kept mostly for curiosity's sake, since not a single vehicle is officially depicted having this engine type.
V6: V shaped 6 cylinder engine; Common engine type used in front in vehicles of Flatout, has nothing special other than being relatively powerful since almost every vehicle in the game has a V8, it's the most commonly used model everywhere. One example of a V6 is the Sunray, based on the real life Nissan Skyline and Terrator, based on real life V6 Jaguar models. In Flatout 2 and UC, the model for this engine is the same as what we call the Flat4, with a modern engine cover and no carburetor as most other V8 muscle cars.
V8: V shaped 8 cylinder engine; Mostly used in Muscle cars or sports cars, such as the Sparrowhawk, the V8 engine is a poweful compromise of power and stability, if used in the right hands. In Flatout it has generally the bigger displacement of all engines but unfortunately, with the exception of the Bullet GT and Speedevil, rev rather lowly, but they still make the most power out of all the engines. Ironically, comparing a V8 versus an I4, the V8s grunt less, but make more power (as in, they don't need to scream absurdly high to reach the same power figures as I4's do), while I4 have to rev absurdly high to achieve a very small percentage of the power a V8 makes, (although that's lampshaded in real life with a couple of I4 making as much as 1000hp). In Flatout 2 and UC, these engine are always modeled with a carburetor, and that's why most of the vehicles in Flatout with this type of engine are either muscle cars or exotic ones.
NOTE: For the sake of simplicity I left some cars with only one engine type based on their in-gane model (it's highly debatable whether or not the Insetta and Insetta Sport resembles Subaru and therefore could have a Flat Four engine, but share that model with other cars). This also applies to the Lancea resembling a Datsun 280SX which had a inline 6 cylinder engine, that model is different, and it's RWD, and the Banger, which is a "Lancea Rally 037", at least according to this Wikia, which had an inline 4.
NOTE 2: The vehicles in the tier list will have listed values based on their engine model in the Flatout universe, and not the car it seens to resemble in real life.
Types of Drivetrain
Edit
FWD: Front wheel drive; Also called fun wheel drive by some or wrong wheel drive by others, a very debated drivetrain layout that appeals to different styles of drivers, mostly beginners saying stuff like VTEC kicked in yo you can separate the boys from the men.
RWD: Rear wheel drive (fun); One of the most common layouts, atleast in Flatout, where the vehicle is expected to be moderately well balanced or rather prone to fishtailing if the engine is also in the rear.
4WD: Same as FWD but with the added help of the back tyres (therefore 4 wheel drive or all wheel drive, the game does not specify entirely what system the car uses, but by default it's supposed to be 4WD). AWD is a popular choice for dirt or sand circuits in FO.
What the hell is Sex Appeal
Edit
Like GTA: San Andreas and GTA 4, vehicles in Flatout have certain characteristics related to how they look and feel to other people (whether you play online or not, I decided to put them into different comedic categories so you know what to expect from other people when you see a big hunking pile of SUV or a fun little hatchback going like a rocket, this is absolutely bogus and does not exist as a characteristic in Flatout other than the fact of how they seen to look).
Introduction
Edit
Flatout Ultimate Carnage is a great game; not only for the awesome gameplay and amazing visuals for its time, but also for the awesome cars you get to choose from. Each car has certain quirks to it that make them suitable to different situations, but in the end there are some aspects that make certain cars better than others. These aspects range from raw differences in speed, to cornering capability, strength, and even specific quirks that can't be measured by stats [I'll get to those].
Tier Lists
Edit
Below is what I believe are accurate tier lists for each class of cars based on my personal experiences using them through all my hours of playing. SS being the highest rank possible [therefore the best], and C being the lowest rank possible [therefore the worst].
Special Cars
Edit
Derby Class
Edit
Derby Class Tier List
Edit
SS Tier
1 - Grinder Undisputed best car in the derby class. Great speed that rivals most race class cars, great strength to withstand tough hits, and level 2 nitro upgrade make the Grinder a great car to breeze through Career Mode with. It does have some trouble cornering at high speeds, but the difference in speed from this car to the others makes this a no brainer.
Recommended Skill Level: Intermediate
Engine: V8
Drive: RWD
Sex Appeal: Moderate

S Tier

2 - Bonecracker Another carnage mode unlockable, the Bonecracker's greatest strengths lie in its cornering ability while maintaining high speeds due to its fantastic acceleration. Level 2 nitro upgrade doesn't hurt either, and high strength also ensures you can take a few punches. Only thing separating this from the Grinder is a lower top speed.
Recommended Skill Level: Beginner
Engine: V8
Drive: RWD
Sex Appeal: High
3 - Blaster XL This thing does not care about anyone or anything in its path. High strength and high weight make this one of the toughest cars in the game, and it can destroy anything. Couple that with good top speed and a 10.0 handling stat, and this bully is surprisingly quick as well.
Recommended Skill Level: Beginner
Engine: V8
Drive: 4WD
Sex Appeal: Low

A Tier

4 - Switchblade Basically a budget Bonecracker, the Switchblade boasts a nice speed game and good cornering capabilities, but doesn't really offer you anything that the Bonecracker doesn't already do better. I guess its prime use would be if you don't have the money or don't have the Bonecracker unlocked, but it's still a good car nontheless.
Recommended Skill Level: Beginner
Engine: V8
Drive: RWD
Sex Appeal: Low
5 - Venom This is the budget Grinder for you. Great top speed and great strength, but has some trouble cornering. It's fun to mess around with, since it's great top speed really makes for some nice lap times. I'd recommend using this to clear some of the time trials in Career Mode.
Recommended Skill Level: Intermediate
Engine: V8
Drive: RWD
Sex Appeal: High (ever heard that engine exhaust ?)

B Tier

6 - Splitter I really dislike using the Splitter cause FWD makes cornering a pain in the butt due to under-steer. But since the derby class really lacks speed before level 3, it still has enough to take the top spot of B Tier. Okay speed and okay strength make the Splitter the least appealing of the level 3 derby cars, but it does offer level 2 nitro.
Recommended Skill Level: Intermediate
Engine: V8
Drive: FWD
Sex Appeal: Moderate (even for Derby class standards)
7 - Shaker The Shaker is a great car for inexperienced players to use. Fantastic cornering and good top speed make it an intriguing pick for those looking for a level 2 car. Although its bad acceleration relative to its top speed makes this car heavily nitro dependent.
Recommended Skill Level: Beginner
Engine: V8
Drive: RWD
Sex Appeal: Moderate
8 - Banger This little thing leaves a lot to be desired in terms of speed. It corners like a champ, but falls flat when it comes to straightaways. It also gets eaten alive by other cars since it prety much has no weight to it. The developers probably gave this car to Jack Benton as a handicap.
Recommended Skill Level: Beginner
Engine: I4
Drive: RWD
Sex Appeal: High (well, it's a Lancia after all)
C Tier

9 - Chili There's not really much you can say about any of the level 1 derby cars. They all suck, but the Chili at least has great cornering capability. But with no speed, no strength, no weight to it, and no ability to handle any kind of debree on the track, the Chili will forever be the underdog.
Recommended Skill Level: Beginner
Engine: I4
Drive: RWD/FWD (in FO2)
Sex Appeal: Low (it's the underdog for a reason)
10 - Malice The Malice corners well and has the highest top speed of the three level 1 derby cars, but it really just isn't impressive at anything. It gets eaten alive by other cars just like the Chili does, but at least it can actually catch up to people... sometimes.
Recommended Skill Level: Beginner
Engine: V8
Drive: RWD
Sex Appeal: Moderate
11 - Roamer This thing just exists. It's reeeeaaly slow, but can take a bunch of hits. But by the time you even need to worry about taking hits, you should already be investing in a level 2 derby car. The Roamer is fun car to beat people up with for some extra cash in the early going, but it's bad.
Recommended Skill Level: Beginner
Engine: V8
Drive: 4WD
Sex Appeal: Low/Moderate (just because Sally drives it)
Race Class
Edit
Race Class Tier List
Edit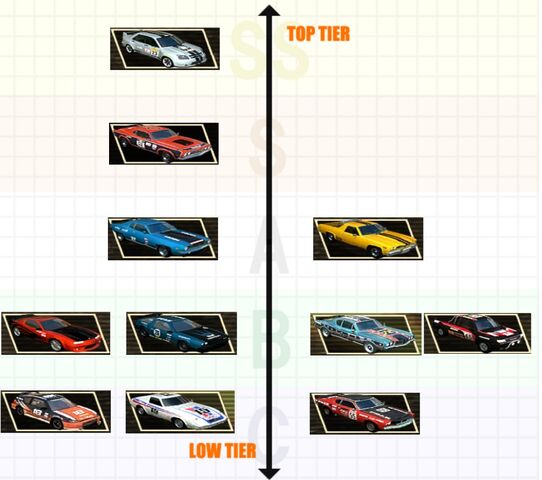 SS Tier

1 - Insetta This was actually really close. The Insetta has crazy top speed that makes even street cars look slow, and the strength to take a lot of hits. Too bad it's cornering is god awful. But hey, when you have that much of a speed advantage it's hard to not blow everyone away. Level 3 nitro helps too.
Recommended Skill Level: Advanced
Engine: V6
Drive: FWD
Sex Appeal: Moderate (the exhaust note kills it)

S Tier

2 - Ventura Really fast, good cornering, but really weak as well. But what makes the Ventura so good is what I like to call "Sticky Tires". Basically, whenever this car goes airbourne, it will always land without any recoil. It's absolutely delightful and allows you to gain a lot of nitro through jumps without any fear of going AWOL when you land.
Recommended Skill Level: Advanced
Engine: V8
Drive: RWD
Sex Appeal: High

A Tier

3 - Bullet The Bullet is just a fantastic car all around. Great speed alongside great strength make the Bullet a solid choice for the aggro driver who just wants to mess things up. Is good for cornering as well, and is really only limited by its top speed. You'll find yourself hitting that barrier more often than not, especially with level 3 nitro.
Recommended Skill Level: Beginner
Engine: V8
Drive: RWD
Sex Appeal: Moderate/High
4 - Lentus The Lentus is a force to be reckoned with. Nice speed along with good weight makes this a heavy hitter if you choose to go that route. But 4WD ultimately causes the Lentus to lose the cornering battle with the Bullet. It also has lower strength than you might expect, especially if you plan to use it to go aggro.
Recommended Skill Level: Intermediate
Engine: V8
Drive: 4WD
Sex Appeal: Low
B Tier

5 - Daytana This thing is deceptively great at cornering, but only in skilled hands. Good speed allows you to keep up with you opponents, but I definitely wouldn't recommend this car to beginners as it doesn't react well to debree and is super squishy. But in skilled hands, the Daytana can really give the upper tier cars a run for their money.
Recommended Skill Level: Advanced
Engine: V8
Drive: RWD
Sex Appeal: Average
6 - Fortune The Fortune does a great job at cornering despite being FWD, and that's thanks in part to a 7.7 handling stat which is fantastic for any car. Debree gives this thing fits, but it's definitely a lot easier to control than the Daytana and is not as squishy. Definitely the safer of the two choices if you're looking for something with a little more control.
Recommended Skill Level: Beginner
Engine: V8
Drive: FWD
Sex Appeal: Average
7 - Mad Rash One of my favorite race cars, this thing boasts RWD coupled with a good handling stat to make cornering a breeze. It suffers in top speed compared to its level 1 counterpart the Boxer, but makes up for it in its ability to take corners at higher speeds. Performs like a level 2 car in level 1.
Recommended Skill Level: Beginner
Engine: V8
Drive: RWD
Sex Appeal: High (it's all about the attitude, and this car has plenty of it)
8 - Nevada This is as close to a tank as you're going to get. This thing will power through any obstacle, any car, and anything else that stands in its way. A great car for going aggro, but the Nevada is limited by its poor speed capabilities. Winning with the Nevada in the later cups could be tough.
Recommended Skill Level: Beginner
Engine: V8
Drive: 4WD
Sex Appeal: Low (could it become more lame than the ridiculous Blaster XL ??? There you have it)
C Tier

9 - CTR This car has a target on its back, and for good reason. It's slow, squishy, and gets killed by debree. But it's great at cornering and can definitely do work in the right hands. This car would definitely benefit someone who prefers to not crash into things, as it's very easy to control and rewards safe driving.
Recommended Skill Level: Beginner
Engine: I4
Drive: FWD
Sex Appeal: Moderate
10 - Lancea The award for most underwhelming race car goes to the Lancea. Despte being RWD, the Lancea is actually pretty bad at cornering. Couple that with decent speed, and you can see why I have it listed this low. All it really has to offer is strength, but it can still be decent in the right hands.
Recommended Skill Level: Intermediate
Engine: I4
Drive: RWD
Sex Appeal: Mid-High
11 - Boxer Oh what some people will sacrifice for a little more speed. The Boxer brings you the highest top speed of the level 1 cars, but at a considerable cost of maneuverability. It's cornering is inferior to the Mad Rash and has only a slight speed advantage while sacrificing strength. There is no logical reason to use this over the Mad Rash.
Recommended Skill Level: Beginner
Engine: V8
Drive: RWD
Sex Appeal: Fairly Low
Street Class
Edit
Street Class Tier list
Edit

SS Tier

1 - Bullet GT The age old question of Bullet GT vs Road King is very debateable, but I'm on team GT. Crazy fast, strong enough to survive to the end, and great cornering make this the best car in the game. Add 10.0 nitro to that, and you've got a win in the bag as long as you can control it.
Recommended Skill Level: Advanced
Engine: V8
Drive: RWD
Sex Appeal: FANTASTIC
2 - Road King Very close second. What Road King lacks in strength, it makes up for in speed. With the highest speed stats in the game [not counting special cars], the Road King can take you to victory as long as you avoid anything and everything, cause this thing is wild. Stay as far away from any Canyons you see as you can.
Recommended Skill Level: Advanced
Engine: V8
Drive: RWD
Sex Appeal: Good enough

S Tier

3 - Speedevil My favorite car in the game, and one that can definitely take you far with practice. This thing rules city tracks due to its fantastic speed game, great cornering, and good strength. It can knock people around if need be, but it's definitely too wild to be useful as an aggro car.
Recommended Skill Level: Advanced
Engine: V8
Drive: RWD
Sex Appeal: Moderate
4 - Terrator Not as wild as the Speedevil, but definitely a challenge. The terrator boasts great speed and good cornering capability. But with low strength and low weight, this car is a glass rocket. In retrospect, it's just the speedevil just slightly worse. Still good though.
Recommended Skill Level: Advanced
Engine: V6
Drive: RWD
Sex Appeal: High
5 - Sunray The car that probably made too many people curse at their screens boasts great speed capabilities and decent strength. But it suffers in it's cornering ability despite having a decent 5.5 handling due to FWD. It's great because it allows instant recovery from crashes, but really makes it tough to take the best lines.
Recommended Skill Level: Intermediate
Engine: V6
Drive: FWD
Sex Appeal: High

A Tier

6 - Canyon Despite being weaker than it's FlatOut 2 iteration, the Canyon is still a one car wrecking crew. With decent speed but great handling capabilities, the Canyon is fit to handle all situations. The best part is that debree is not a problem for it like it is for so many other cars.
Recommended Skill Level: Beginner
Engine: V8
Drive: 4WD
Sex Appeal: Low/Fairly Average (just because another chick drives it in FOUC, this lame car is a pickup and therefore should be ugly)
7 - Speedshifter This sleek machine has pretty good speed capabilities, but not enough to warrant inclusion in S tier. Decent strength can keep it going until the end, but it also occasionally gets "Sticky Tires" which really makes the Speedshifter a solid choice for any skill level. It corners well too, so it's like a discount speedevil.
Recommended Skill Level: Intermediate
Engine: V8
Drive: RWD
Sex Appeal: O.k.
8 - CTR Sport The sport version of race class' CTR can certainly fly. This thing can corner easily despite being FWD due to it's relatively lower top speed and good handling stat. But it's suuuuper squishy and is extremely limited by its low top speed, making little use of level 3 nitro.
Recommended Skill Level: Intermediate
Engine:V6
Drive: FWD
Sex Appeal: Lame ricer

B Tier

9 - Scorpion Speaking of wasting level 3 nitro, here comes the Scorpion with its mediocre top speed. I like using the Scorpion because it offers great strength for a Street car and is also the only level 1 car that comes with level 3 nitro. Also handles really well, but corners too slowly.
Recommended Skill Level: Beginner
Engine: V8
Drive: RWD
Sex Appeal: Bittersweet "rejected lover" stalker/creepy
10 - Sparrowhawk This car has fantastic potential, but is really tough to get a grip on. It likes to slide around, so it's important not to over-steer. Mediocre speed and low strength make this a popular wreck target, but you'll be surprised how well this car corners in skilled hands.
Recommended Skill Level: Advanced
Engine: V8
Drive: RWD
Sex Appeal: High
11 - Crusader Whenever I see this car, I see flashes of Frank Malcov crashing into walls. The Crusader has great strength and is an okay choice for an early career aggro car. It handles exceptionally well, but low speed really makes it difficult to compete. Aggressive nitro usage is demanded for this car.
Recommended Skill Level: Beginner
Engine: V8
Drive: 4WD
Sex Appeal: Antique car enthusiast
12 - Insetta Sport The basis of this cars design is control. FWD makes it so you're always in control at the expense of some cornering capability. This is an ok starting car, but it really doesn't deal with debree well and its speed isnt high enough to warrant keeping it around past level 1 of street.
Recommended Skill Level: Beginner
Engine: V6
Drive: FWD
Sex Appeal: Not too bad

C Tier

13 - Chili Pepper This car is just awful. It corners exceptionally well, but is trash at just about everything else. You get it for a discount though, and agressive nitro usage can yield some good results. But you're squishy and have no means to defend yourself. Pick this car if you want a challenge.
Recommended Skill Level: Intermediate
Engine: I4
Drive: RWD
Sex Appeal: Pathetically ridiculous try-hard
14 - Vexter XS Its speed is mediocre, it absolutely sucks at cornering, its strength is bad, it doesn't even have a working nitro upgrade... Yea, this car is not worth any of your time or in game money. If you're a masochist, go ahead and take this car for a spin. I promise you'll love it.
Recommended Skill Level: Advanced
Engine: V6
Drive: FWD
Sex Appeal: ???/None
Conclusion
Edit
This guide is subjective but takes into account different views from different gamers of Flatout, mostly Ultimate Carnage. Therein may not be the same as your views on what constitute the best vehicle to be used in each game, so it's recommended to access each vehicle page if you are playing career mode as this game is highly replayable. By no means is this conclusive in any means and serves merely as illustrative and helpful advice at best for any gamer as viewpoints can vary and conclusions are never the same. Added sections per this Wikia includes Types of engines and Drivetrain layout.
This tier list was originally written as a guide for the Steam Community on August of 2017, added sections per this Wikia includes engine types, drivetrain layout, aswell as explanations of each with pros and cons.
The original credits for all suggestion (the Tier list explanations and skill levels advised) goes entirely to steam user "Lince": - http://steamcommunity.com/id/MrLincecum (as of February, 2018 link), so thank him for putting effort into writing the guide.
The original one with all the explanations and better illustrations of the vehicles can be found here: http://steamcommunity.com/sharedfiles/filedetails/?id=1115693676
For FWD, AWD and RWD explanations thanks to digitaltrends: - https://www.digitaltrends.com/cars/fwd-vs-awd-vs-rwd/
For "Why it's good and Why it's bad" in the drivetrains layouts thanks to autoevolution: - https://www.autoevolution.com/news/powertrain-layouts-advantages-and-disadvantages-92273.html
We thank all Flatout Wikia users and readers alike into keeping this in place and adding or editing information as necessary, since experience is never too much, so don't screw the article and if you're the original author of any bits and pieces on this article and would like that removed, then please write a comment.
Engine model types gallery
Edit