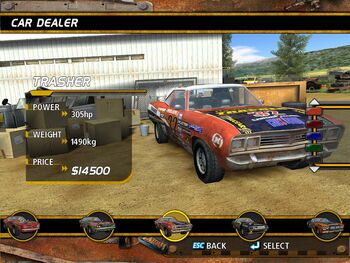 The
Trasher
is a
Gold Class
car in
FlatOut
. With rugged suspension and a very powerful 7.2 liter V8, it is one of the best cars for stunts and offroad driving.
Performance
Edit
The Trasher is a very powerful car, with a 305 horsepower V8 available straight out of the junkyard. The car's greatest strength, however, is its high-riding suspension, which allows it to drive over large obstacles and land very long jumps with the greatest of ease. This makes it a premier choice for those that enjoy taking risks, though it should be noted that the car is not very structurally sound, and will take damage relatively easily.
In demolition derbies, the Trasher's performance is acceptable, though not top-notch. It is a good choice thanks to its suspension, which allows it to nagivate the terrains of the arena without much hassle, but it also presents a rather large target, and takes damage rather quickly. It is usually best to drive defensively with the car, allowing opponents to whittle each other down before moving in to mop up the rest of the competition.
The car is a great choice for other stadium competitions, particularly the mudbowl races and the high jump. With its tall suspension and excellent power, the Trasher can navigate the terrain with the greatest of ease, very rarely bottoming out over dips and trenches.
At $14500 dollars, the Trasher is the third most expensive car to buy in the game, being just under the Thunderbolt and the Blade.
The car is relatively easy to roll, due to its low weight. If hit by heavier vehicles, is likely to topple over rather than spin.
The car makes 456 horsepower when fully upgraded, putting it on par with the Thunderbolt for power.
Ad blocker interference detected!
Wikia is a free-to-use site that makes money from advertising. We have a modified experience for viewers using ad blockers

Wikia is not accessible if you've made further modifications. Remove the custom ad blocker rule(s) and the page will load as expected.