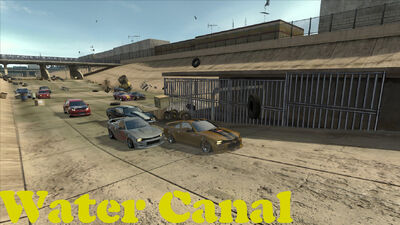 The Water Canal is one of the types of tracks in FlatOut 2 and FlatOut: Ultimate Carnage. It's one big location with all the tracks: Water Canal 1 , Water Canal 2 and Water Canal 3.
Description
Edit
Race around canals set in the outskirts of a large city. Lots of alternative routes and shops to go through.
FlatOut 2
Edit
True to the track's description, the races are located in the canal and in the town. There are a lot objects, in the canal you can see old tyres and trash bins. In the town you will most likely find breakable gas tankers, parked cars, fences and breakable glass to go through the shops. The track is pretty funny but can be difficult at most parts.