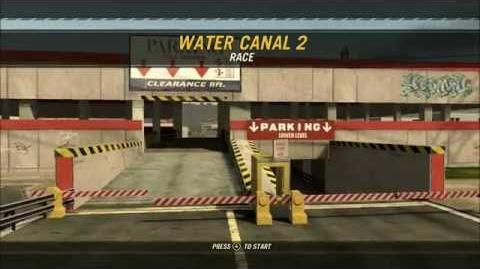 The Water Canal 2 is one part of the big
Location
:
Water Canal
in
FlatOut 2
and
FlatOut: Ultmate Carnage
. This track in the
Water Canal
.
Description
Edit
The longest canal route, this includes a drive-through parking hall, freight containers and a series of railroad structures.
FlatOut 2 era.
Edit
In
FlatOut 2
this is very fun and long track. Always it's a big challenge to finish and stay alive. 90-degrees corners and narrow places makes this track more dangerous and fun.
FlatOut: Ultimate Carnage era.
Edit
In
FlatOut: Ultimate Carnage
the track has been changed. more tires, boxes, cars on the parking, unexpectable trees and other. Water Canal 2 still one of the most long and mad tracks.
Now, you can race by day and sunset. This means that you can change the time of day and play with different map's lights.
The Water Canal 2 still real challenge for drivers.
Ad blocker interference detected!
Wikia is a free-to-use site that makes money from advertising. We have a modified experience for viewers using ad blockers

Wikia is not accessible if you've made further modifications. Remove the custom ad blocker rule(s) and the page will load as expected.